LensQuote has revolutionized the sales process for many optometry practices throughout the country. By showing patients the superior value their practice offers while also eliminating online retailers from the conversation, LensQuote users have seen their contact lens sales skyrocket.
However, a common question we have been hearing is: How can I utilize LensQuote to get patients to purchase more daily lenses?
"How can I utilize Lensquote to get patients to purchase more daily lenses?
Oftentimes, patients are hesitant to buy daily contacts and instead settle for a two week or monthly replacement lens. A big reason for this is that they are unsure about the cost. With LensQuote, we knew we could create a solution.
LensQuote is delighted to announce a major update to our software: The Lens Comparison Tool.
With LensQuote's Lens Comparison Tool, you can now show patients the supreme value of switching to daily contact lenses. 
In the past, patients would go through their eye exams and consistently turn down switching to daily contacts, even after hearing about rebate benefits and sometimes even trying the lenses. Just knowing that they would switch from 12 lenses to 360 made them feel like the price would significantly increase. Without seeing the new pricing compared to their old, it's very hard for the brain to want to change.
Now, The Lens Comparison Tool creates a quote with the patient's current monthly lens and compares it to the practice's preferred daily option, revealing a much less dramatic increase in price than the patient is expecting.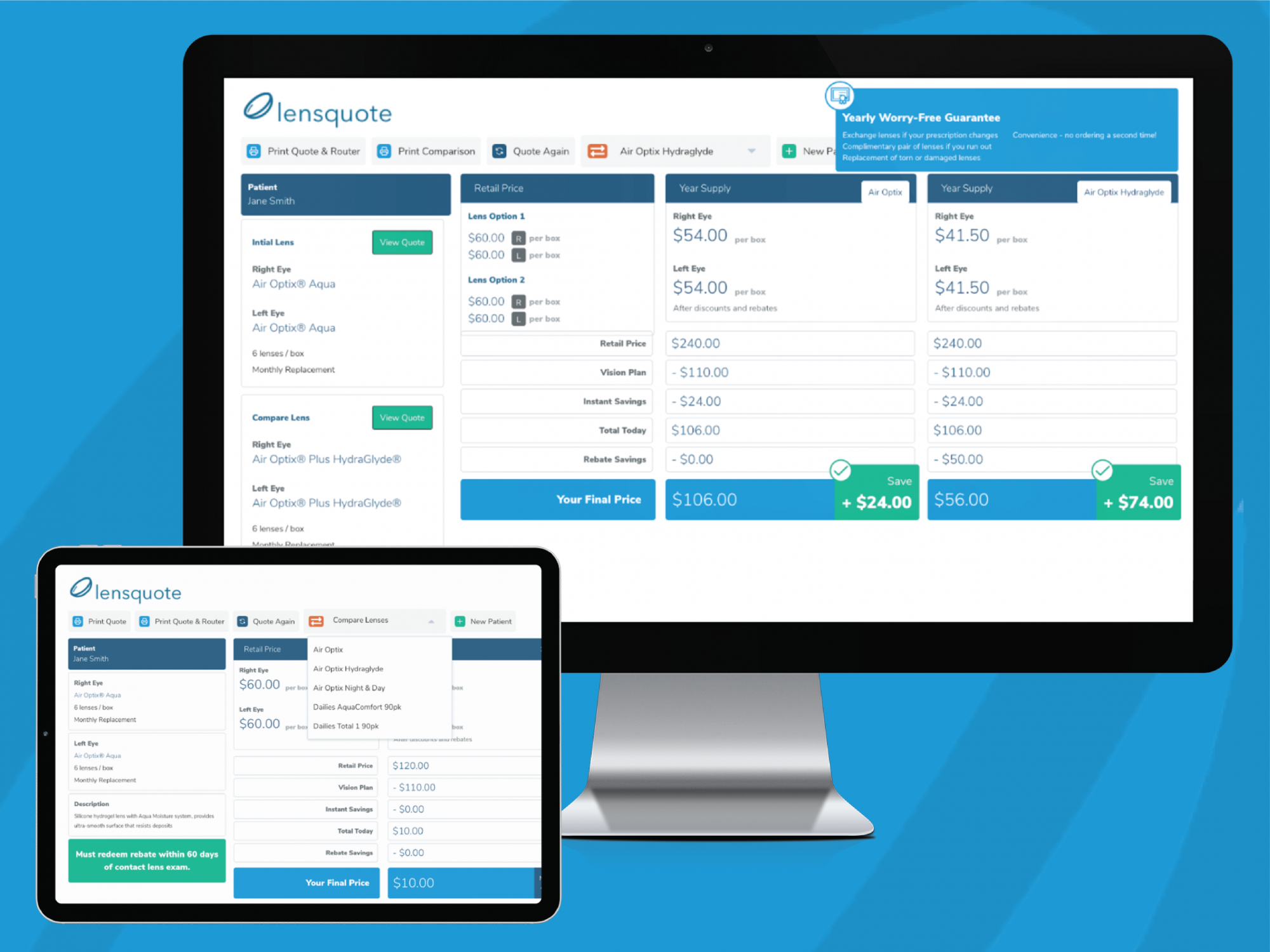 How Does it Work?
On the quote screen, there is a new drop-down menu of lenses that you pre-set for your office.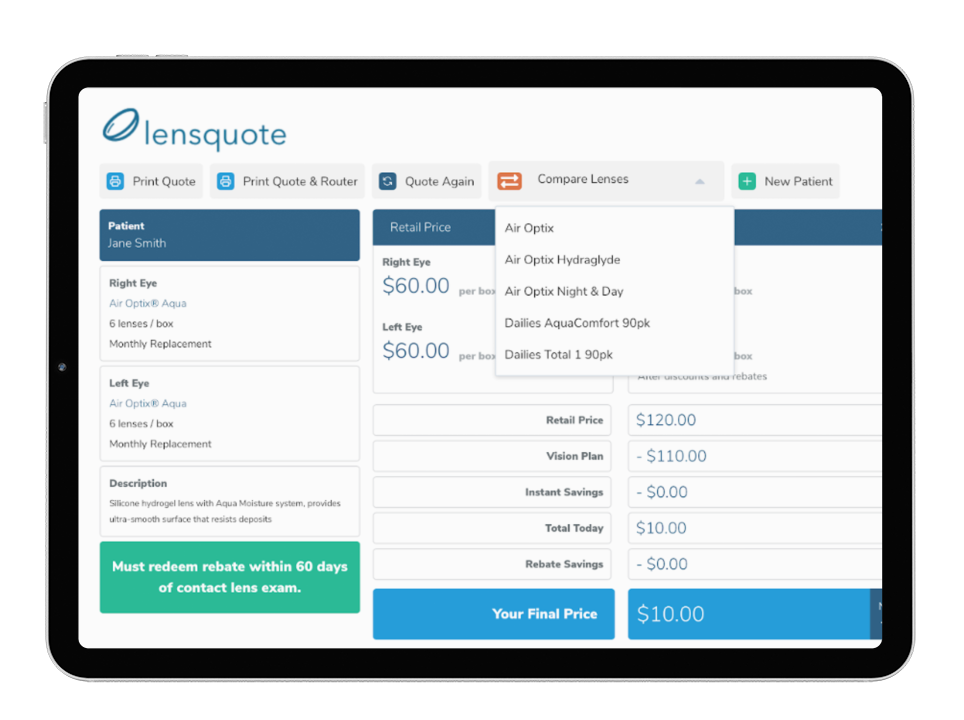 If you want to run a quick lens comparison, you select one of the brands from the drop-down menu and it shows a side-by-side, year vs. year supply comparison! You can easily swap back-and-forth between the original quote and the daily vs. monthly quotes as needed for the patient. 
Click here for a quick How-to guide and demonstration video on LensQuote's Lens Comparison Tool.
By pairing this side-by-side comparison with the supreme value of daily lenses, you can now easily convert patients from monthly to daily lens replacements, increasing your revenue immediately.
P.S., The Lens Comparison Tool allows you to compare any lens to any other lens. If you've been wanting to switch even your monthly lens wearers from one brand to another easily, the tool can help with that, too! This helps you maximize your rebate and growth programs with these manufacturers.
The Lens Comparison Tool: creates a quote with the patient's current monthly lens and compares it to the practice's preferred daily option, leading to increased conversions

Activity Reports: allows you to track if staff is using the software consistently

Print quote layout changes

New print button appearance saves space

New lenses added

Automatic Buck size swap out for quotes that involve in Engle supply pack, a partial supply package gets changed to the lower numerical box 

Added option for Davis Vision Insurance